By accepting you will be accessing a service provided by a third-party external to https://mschristian.org/
Learn about Cruising and MS
By Laura Kolaczkowski · February 21, 2020
Vacation travel can present challenges for anyone. Life with
MS
also has its own challenges. Combine
MS
and vacation and you can get an entirely 
new set of challenges
. When the community managers at 
MultipleSclerosis.net
 asked me to write about taking vacation cruises while living with
MS
, I jumped at the chance. Actually, the truth is I can't jump anymore, but I am more than happy to share several tips I have learned of how to make the most of cruising. Not everyone will ever take a cruise, or even be interested in doing so. But in case you are traveling by big boat, this is the first in a series of articles where I share some personal tips and tricks to make the most of your vacation.
Attitude is everything
I 
don't do well with large crowds
, and it would be heavenly if we could cruise on a small ship with only a handful of passengers and a very attentive crew. Unfortunately, we don't have access to a private yacht and instead cruise on the big liners, along with thousands of other vacationers. The good news is, there is still an attentive crew to attend to your needs and ways to avoid the crowd.
Click HERE to Register for the MS Beacon Newsletter
A mix of different types of travelers
Our most recent trip was on the Norwegian Cruise Line ship Escape, and we were onboard with 5,000+ strangers. The mix of cruisers range from the young crowd able to party all day and night, to the more sedentary travelers like my husband and me who are content to just do very little and looking to relax.
You can (mostly) avoid the crowd
Fortunately, on most ships, you only encounter the massive crowd during embarkations/disembarkation (boarding on and off the ship) and can find places that are 
less crowded and chaotic
 if that is your choice. You can mingle with others at shows, bingo, and other activities on board following a schedule that runs from sunrise to well after midnight each day. For us, quiet time sitting on the balcony of our cabin is more our style.
The glossy cruise ship brochures highlight the good life of sitting poolside but the reality is with 5,000 people on board, and a pool with a capacity limit of about 100, getting a spot in the water is a tough if not impossible challenge. Often even finding a chair on the deck to 
catch some sun
 is difficult.
Finding quiet places on the ship
Alcohol
 tends to flow morning, noon and night, and can affect the social manners of many people who otherwise would be more considerate. Don't be surprised if in busy places on board you feel like you are in Times Square in New York City as the ball drops at midnight on New Year's Eve. Elbow to elbow crowds are not unusual during peak times, but it is also easy to find the quiet places on the ship where you can be out of the flow.
Cruise ships are small floating cities, and you can expect to walk a lot so pack 
good hiking shoes
. Getting on and off the ship at the various ports usually involves navigating lengthy piers. Some piers have transportation while others require the passengers to travel by their own means.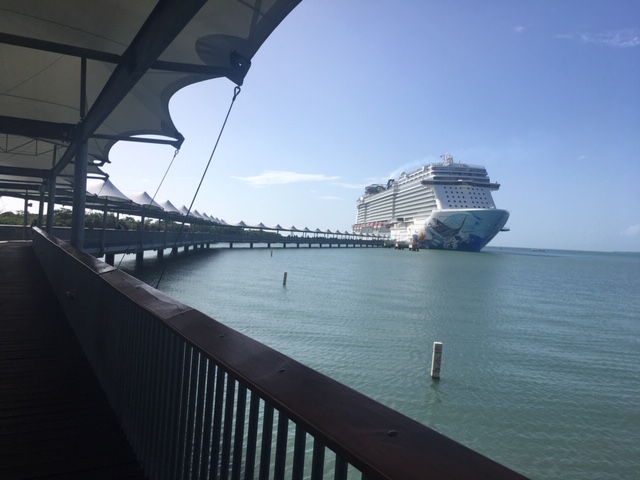 NCL's Escape docked at Harvest Caye, Belize
State your needs clearly
It is absolutely essential that you know if you will need any special 
accommodations
 before departing for a cruise, and you must state them clearly when you make the reservation.
Call the cruise line's office of accessibility needs
To LEARN MORE - CLICK HERE
....................................................................................
::::::::::::::::::::::::::::::::::::::::::::::::::::::::::::::::::::::::::::::::::::::::::::::::::::::::::::::::::::::::::::::::::::::::
Visit our
MS
Learning Channel on YouTube: http://www.youtube.com/msviewsandnews
(Originally posted by Stuart)
Comments
No comments made yet. Be the first to submit a comment
MSChristian.org RSS Statement
Most of the information found on this website comes from RSS Feeds. It is an automated task that provides the information to you. We try to limit items that are duplicates, but with many feeds this can be difficult. Since the owner of this website also has MS and is legally blind this service was necessary to keep the website running with as much automation as possible. Volunteers help from time to time but many have disabilities themselves. We thank you for visiting us and hope that MSC can be of service to you and your loved ones.